I have a confession.
The last three/four-ish days of break have been almost entirely devoted to watching all three seasons of
Avatar: the Last Ai
rbender.
I could have been productive: read a book, studied some animation, sketched or...I don't know, cleaned my room maybe?
But no, I devoured three years of Nickelodeon instead.
Turns out, once you start it's a bit difficult to stop.
And now, can I gush? THAT SHOW IS FREAKING AMAZING! As much as I distrust hyperboles - it is THE best, most gripping, most intense, completely fantastic show I have ever ever seen.
The corny sarcasm/American humor is sometimes out of place but I don't care.
The theme of the whole show is respect: Respect for self, respect for heritage, respect for friends, respect for the environment, and respect for life. It explores other areas too though: the duality of human nature, the importance of trust, the power of love, finding your destiny, the meaning of freedom - just to name a few.
The creators (Bryan Konietzko and Michael Dante DiMartino) obviously love their story. Character arcs are woven skillfully throughout the series. Each character has a different role to play and a different way of finding that role. Villains and heroes alike are rounded out beautifully and given real challenges and motivations that bring them to life.
They also did a ton of research! Each style of element bending is designed to corresponds with a different Martial Art that supports the element they're controlling. Hung Gar style Kung Fu for Earth, Tai Chi for Water, Northern Shaolin Kung Fu for Fire, and Ba Gua for Air. Each group of people is distinuished by different clothing and customs. Each culture has a unique set of teachings and characteristics that are apparent through their actions and speech. Harry Potter, Lord of the Rings, Hayao Miyazaki and others influenced it a lot too. They did an excellent job of blending the legendary epic with magic and spirituality.
Bonus - it's so clean you could eat off it. This was especially apparent to me after watching several crime shows between my
Avatar
-sessions. Those were gross and seemed closer to horror than prime-time.
Avatar
went deeper into the human psyche, was funnier, taught me more memorable, valuable lessons AND looked better in only a third of the time. So eat it TNT. For all your shock-values passing as "drama", you still lose.
Anyway - this is grade A tv. I love love loved it and if you want, I'd be happy to nerd with you.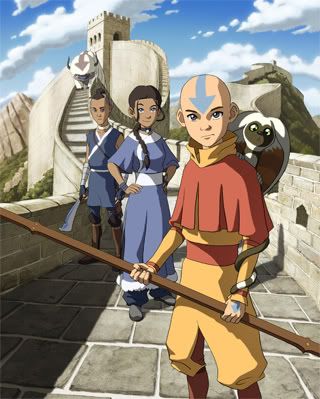 Funnily enough, I did a report/presentation on Avatar (and anime) all the way back in Fall '07. But mostly I just described parts of the characters and style and talked about the cross-pollination between the American and Japanese animation.
I never watched an episode though. Thought I didn't have time...
How absurd.
Thank you, Morgan Gibbons for showing me the light. Or...at least sending me the
link
.